Wednesday, January 28, 2009 at 10:27PM
Some people have asked about the candy lamps that are featured on the candy buffet we did below.
Here is a closer look at the lamp we created for this event.
When doing a candy buffet, many people totally forget to consider the lighting. You may have the most beautiful candy buffet ever created, but no one will be able to appreciate it in the dark! And often these buffets are set up in dark ballroom corners, with very bad lighting. So how can you illuminate your candy buffet without ruining the entire look of the display? Answer: candy lamp!
Believe it or not, it cost only about $15 to make this lamp. Here are the steps:
1. Buy a plain lampshade (I purchased this shade at Joann's)
2. Buy some fabric and trim to cover lampshade
3. Buy a "lamp kit" at Lowe's or Home Depot (here is a pic of a lamp kit):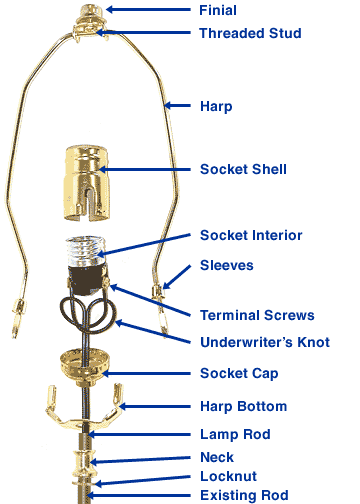 4. Find some type of vase or glass item that you'd like to use as your lamp base (I used this glass candle holder I had in the closet).
5. Cover lamp shade with fabric and secure with glue gun (just roll the lamp shade across your fabric and trace with a pencil. The shape will look like an arc. Then cut and glue to shade). Attach trim with glue gun.
6. Set lamp kit on top of glass vase, and fish wire through bottom of vase (we drilled through the wooden base of this candle holder so that the wire wouldn't show). Attach wiring (okay, my husband did this part for me!)
7. Fill glass with any type of item to match your theme (we used candy buttons here, but I think gumballs would look adorable as well).
8. Screw in lightbulb, attach shade, plug it in, and there you have an inexpensive custom lamp!
There's a great video below that you can watch for more detailed instructions. I used the same kind of shade that this guy in the video used, so the lamp kit harp and finial were not needed:
Here's a picture of the finished candy buffet with the lamps lighting up the action!
All photos courtesy of Party Perfect.